This article was originally posted on PalmBeachIllustrated.com
For local lawyer Bill Bone, life's about balance in all things—from biking to the boardroom and beyond.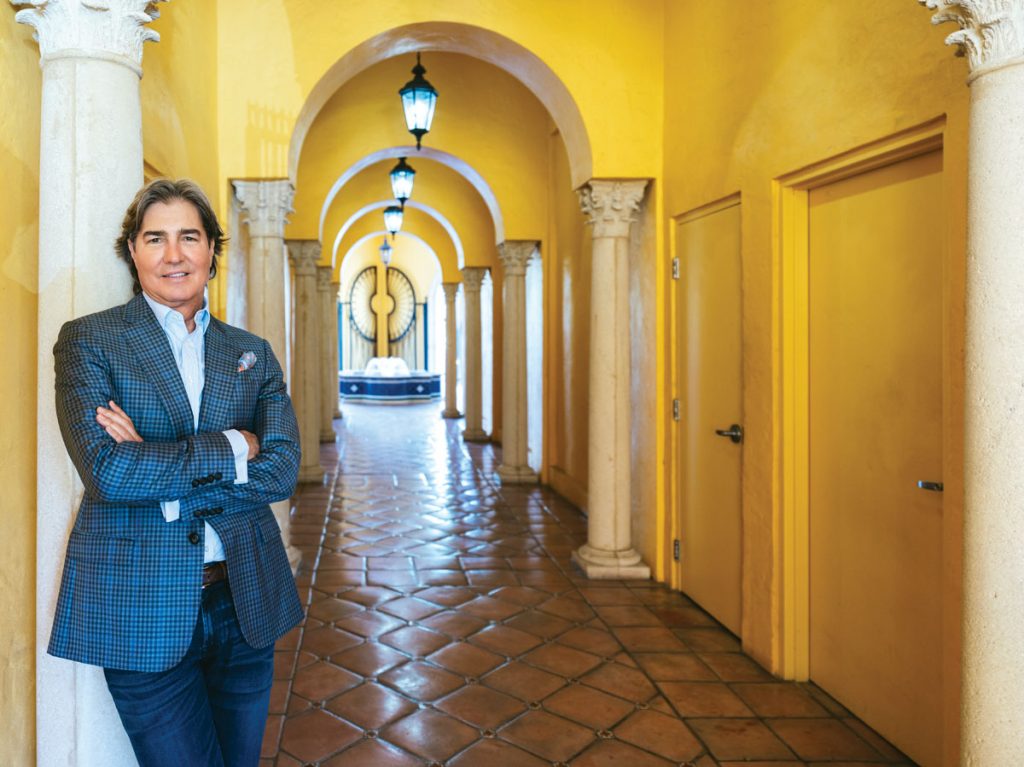 Maybe you're still hitting the snooze button, but Bill Bone is up before dawn, launching into a two-hour workout. He hops on his Trek hybrid bike, cycling his way to one of several gyms he belongs to for a 50-minute class led by a professional trainer. Back on the bike for a short trip to The Breakers Beach Club, where he either swims in the lap pool or the ocean. A walk or run with his Rhodesian Ridgeback dog, Buddha, caps off the morning routine. If that sounds like a lot before breakfast, for Bone it's literally just a start: The day is still young (and you're probably just rolling out of bed).
After a quick breakfast prepared by his personal cook, Bone heads across the bridge to West Palm Beach, where he works as a trial lawyer at Larmoyeux & Bone, a firm specializing in civil trials, medical malpractice, auto negligence, and—through the Bill Bone Bike Law division—advocacy for cyclists. By midday, you might find him sitting in on a lecture at The Society of the Four Arts. Evenings are for winding down over a leisurely dinner at Casa Hueso, his home for 25 years in midtown Palm Beach, entertaining a dozen or so friends in what he calls a version of the French salon, with eight to 10 courses and lively conversation—no small talk allowed, he says. "The food is the catalyst for conversation, but conversation is the goal."
Bone works hard at incorporating his mantra—work, learn, play—into each day. The balance is as important as excellence in any one area, he believes, and it sums up his approach to wellness. "I think of wellness as what you do for the whole person in order to have a good quality of life," he says. "What else is there besides work, learn, and play?"
Born at Good Samaritan in West Palm Beach, Bone's dedication to the area is evident in his involvement in several charitable local organizations. Giving back is an essential component of mental health, he believes, but simply writing a check would deprive him of the joy of engaging with people. "For it to work for me, I have to have my hands in it," he says. "If there's soup involved, I want to serve it."If there's an addendum to Bone's mantra, it might well be variety: He doesn't even like to repeat the same meal—hence the personal cook—and avoids fixed workout routines because he admits he gets "easily bored." A self-described foodie, he's not about avoiding, measuring, or weighing food. His only dietary requirements are fresh, varied, and homemade. But even more important than what's on his plate is the ceremony of sitting down to enjoy a meal. When his kids were growing up, he and his now ex-wife (a busy physician) made it a point to have dinner as a family every single night. "To this day, I still do that; every night with multiple courses, even if I'm alone."
That penchant for hands-on participation (plus Bone's gregarious personality) caught the eye of John Scarpa, chairman, CEO, and co-founder of the Palm Beach Police and Fire Foundation. They first met in 2010 when Bone was chairing the town Centennial committee. Scarpa approached him to be master of ceremonies at the foundation's annual ball and auction. "As you can imagine, he readily agreed," Scarpa says. Every year since, Bone has worked his magic, entertaining guests while raising as much as $400,000 during a single auction. "He doesn't do anything unless he's totally prepared," Scarpa notes. "He makes a point to know every bidder and he has our back. He's always engaging supporters and introducing us to new ones."
Bone also chairs the largest student essay contest in the nation, Do the Write Thing, which enlists every middle school student in the county to submit an essay addressing the problem of youth violence. He is proud of the more than 30,000 entries. "Reading them is heartbreaking," he says. "Those kids are educating me."
At the heart of all he does is Bone's desire to improve. His support of the community is no different. "I don't think of charity as charity. I think of it from the standpoint of: How can I make a community or place better?"
And if there's an athletic element in the mix, Bone is in. The list of sporting events he sponsors is long, including the Florida State Cycling Championships and his eponymous Pro-Am Cycling Series, Twilight Racing Series, and a 5k race. For the past 20 years, he has sponsored the Bill Bone Racing Team, a group of approximately 25 riders who compete across the state. For The Bill Bone Tropical Triathlon, which benefits the Lake Worth Community High School Air Force ROTC, Bone triple-matches participant donations.
Although he's an avid supporter of his races and teams, Bone doesn't compete in every event. His personal sport is the triathlon and, although he admits to being "fiercely competitive," he tries to maintain balance. "I admire athletic competitors who train every day, but I'm not prepared to give up the other parts of my life." He competes with himself, to improve his time or performance, but sets his goal on finishing, not necessarily winning. That's why he likes to sponsor events. "I won't end up on the podium with a medal around my neck," he quips, "but my name is still on every medal."
According to Mark Hassell, director of the Bill Bone Racing Team, Bone is a natural at meeting any physical challenge. "He has perseverance and intelligence and he knows how to focus. He always crosses the finish line. He might not be first, but he's happy." Hassell says what sets Bone apart from other athletes is his    investment in the sport's social aspect. "Most people in a race are in their own heads, totally focused on winning. Bill is out shaking hands and talking to people. He creates a community."
At home, Bone maintains close ties with his four children, all in their 20s, joking that he's "dragged" them on mountain-climbing, white-water-rafting, and skiing expeditions. Travel is high on Bone's agenda—particularly if it comes with an athletic thrill. He plans to white-water raft all the "great" rivers, he says, and he hasn't missed being a spectator at the summer Olympics in 30 years. Assuming the spectacle moves forward and allows spectators, Bone's first major trip since the COVID-19 pandemic will be the summer Olympics in Tokyo this July.
Despite his devotion to exercise, growing up, Bone says he was not athletic. Still, he was a self-described go-getter—president of his class, president of his college fraternity, and head of the speech and debate clubs. He was the first member of his family to attend college (three degrees at the University of Florida) since before the Civil War. His father, a Marine, was an athlete who played high school football. At first, Bone followed suit. "I joined the team, but I was terrible; a skinny, skinny kid." He gravitated toward theater and, on his first audition, snared a lead role. "I quit the football team after that. Speech, debate, theater—those are my passions." He travels frequently to his apartment in New York City to attend live performances—as many as 70 in a season. "I'll see five shows in a weekend," he confesses. When he's in Palm Beach, he's a regular at the Kravis Center, among other performance venues.
The COVID-19 pandemic has put a damper on the range of activities Bone used to enjoy, but aside from giving thanks for the Peloton, his response is to "just get up and do something every day." He still strives to fulfill his mantra, just in a different way—the book club he belongs to meets online these days, he hosts socially distant gatherings, attends lectures via Zoom, and can't imagine working from home. "I have enormous energy, but that's because I have all these parts of my life. I expect to work until the day I die, but I also love to learn. I'd like to think that if I got COVID and died, there would not be a single regret. I only regret what I don't do." After all, he says, life is meant to be used up, and if it's unique and interesting, "I'm there."